TeamTV!  So, Tony Vincent receives an invitation from the producers of
We Will Rock You (London)
to attend the upcoming
10th Anniversary gala performance
on May 14th—YAY!  He's SO thrilled and excited at the opportunity to share in the celebrations with fans, friends and old/new cast members! BUT…hold on, wait a minute, the invite only stands if HE pays ALL his own travel expenses! (Come on your $ or not at all), is their STINKING attitude.  And so, despite Tony desperately wanting to be there, he WON'T be in attendance.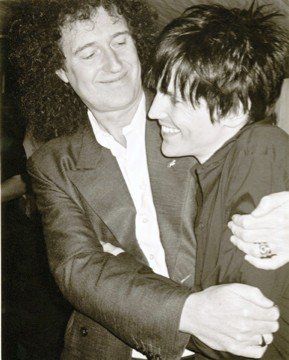 Whether you're a fan of the show or not, if you're as disgusted as me that the actor who birthed this show, who put bums on seats, who helped save it from harsh critical review and near CLOSURE, who sang his face off on the stage EIGHT nights per week, who CONTINUES to make the show money TEN years on, who has nothing but love and respect for Queen, their music and their show, who was (and will ALWAYS be) the ORIGINAL Galileo Figaro, is turned on, and prevented from celebrating all that was achieved back in 2002/03 with us ALL on May 14th 2012, then support us and tweet your thoughts to
@WWRYLondon
and
@DominionTheatre
 and also leave a comment on the
We Will Rock You Facebook page
.
We're not out to change their minds, but we want to put their TRUE colours out there on display, and cause their heartless, penny pinching, skinflint, decision making (which has NO thought for the actors who work tirelessly, or the fans who buy tickets) some embarrassment, shame and negative publicity.  
Without Tony's MASSIVE contribution to We Will Rock You, there MAY NOT have been a show to celebrate on May 14th,--that must not be forgotten, so PLEASE get behind TeamTV on this--and spread the word!
You continue to ROCK IT!  Thanks All!
Ing
p.s Tomorrow (Tuesday May 1), Tony will be releasing a NEW song (titled "Starting Over") for you all to download for FREE on
ReverbNation.com
!  Sign-up to his
mailing-list
for details of the official release.  And, if THAT isn't enough excitment for one week, he will ALSO be performing LIVE in your living room with fellow
The Voice
contestant (and "Battle" partner/friend/talent) 
Justin Hopkins
via a
StageIt.com
gig on May 2!  The WHOLE WORLD is invited to watch this epic "encore" performance, but tickets are almost sold out!  There are only SEVEN left!  So, grab yours
here
 NOW and enjoy the show!