SOURCE: Star Song's "One Deed" Press Kit.
TONY VINCENT "ONE DEED"
A lot of expectations lie in wait for an artist who releases a sophomore project... expectations from the fans, from the music industry, and from the artist themselves. And heading off the list of expectations is the question, "Can I do as good a job, if not better, than the first release?" For Tony Vincent and the release of
One Deed
, the outcome far outweighs the expectations.
In 1992, a college-bound Vincent produced a solo-independent project that he and a friend serviced to various radio stations across the country. Their efforts paid off when Vincent signed a recording contract with Star Song Communications and subsequently released his self-titled debut in 1995.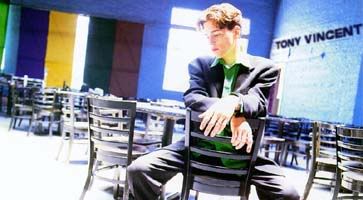 The 1997 release of One Deed signifies an almost "turning back" for Tony, releasing him to be more of himself. "Because I had grown up heavily involved in musical theatre as well as listening to mainstream radio, I just did what came naturally when it came to songwriting. I did, however, want to present something different from a lyrical perspective. I wanted to write about things that would make people think, and therefore give them a reason to listen to the songs again, maybe moving them into a place to start thinking about their heart and what life is all about."
Tony's songwriting freedom is proven with 9 of the 10 cuts on One Deed. Joining Tony in the songwriting and production process were producer Dennis Matkosky (on keys and B3); Kenny Greenberg (on guitar); Robert White Johnson (co-writer, whose pop success includes Celine Dion's hit "Where Does Your Heart Beat Now"); Brent Milligan (on bass); Dan Needham (on drums and percussion); and Chris Pelcer (co-writer and guitar virtuoso). "Chris is a phenomenal guitarist, and that was a big influence to me because I had never written with someone who didn't write from a pianist's perspective. It's a very different way of writing music because of the way the chord structures are built." (Tim Smith from the band Jellyfish was also involved -- singing back-ground vocals on a number of the cuts).
"When we would get together, I would either come in with a piece of a song or Chris would start strumming something and I'd hum a melody and start assembling words. We would sit in a circle and I would have a tablet in front of me, Robert had a shaker or some percussion toy, and Chris had his guitar. We'd start singing different things to the chords Chris was playing, and before long, we would have a melody and the structure of an entire song. That's literally how 80% of the record happened.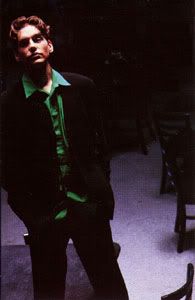 "The recording and the writing of this project was the biggest revelation I've ever had as an artist because there were no boundaries. We came up with a record that is very band oriented. We had three musicians that played every song -- nothing was programmed, and for me, being a keyboardist and a computer geek, that was a very different thing. Everything was very free, it was open and it was live. It was good to not be chained to a sequencer or a computer . I think that has been a big revelation to me because even though something might be played very precisely, if there's no passion it becomes very sterile. I finally learned what music is really about on this record."
The foundation of One Deed reflects a man's passion and integrity over a hurting, lonely and isolated world. Cuts "One Deed," "Reach Out," "Hey World" and "Open Your Window" serve as pivotal points that address society and those who have forgotten the importance of human interaction. "'One Deed' is probably the song on the record that most encapsulates the entire project. A lot of the time I forgot how I can touch another person by just a simple action and how it can make a big difference in their life. Where it might not mean much to me, it might mean the world to someone else."
One Deed ranges in production values from "rough around the edges," the acoustic simplicity of "Closer To Your Dreams," and the heartfelt questioning of "Polly's Eyes."
Reaching deep within the interconnections of One Deed, "Polly's Eyes" serves perhaps as its inspiration - a dedication to a woman who made a life long commitment to Christ made an impact on Tony and his family, leading them to Christ. For six years Polly battled with the cancer that eventually claimed her life, but her strength shone through her illness. "I don't know why Polly died; there might not be a reason. But God chose to take her then and that's all I can deal with. When I start trying to peel away and look for an answer I fall apart because I don't know. And the not knowing hurts worse than the coming to the acknowledgement that God's way is His way and some things just happen. Through Polly, Tony saw lives touched and hearts changed; he saw the completion of a deed that took place two thousand years ago.
One Deed is dedicated to the memory of Polly Marie Dibble.
A DEEPER LOOK AT TONY VINCENT'S ONE DEED
ONE DEED
Alot of time we forget how we can touch another person with a simple action and how it can make a huge difference.  Where it might not mean much to me, it might mean the world to someone else.  The main One Deed has already been done.  Now what are WE going to do?
REACH OUT
Kenny Greenberg brought this idea of reaching out past ourselves, getting outside of our shells.  The idea of reaching out comes back to that one deed where we have to get out of our comfort zones.  Sometimes it hurts, but the end result is so good, and the blessing you receive in return is so much greater than if you sty home and wish for things to happen.
DO YOU REALLY
"Do You Really" is basically about people living an empty life.  We're all raised on this immediate gratification theory - if we don't have what we want within a day or two, we give up hope rather than look for the eternal perspective of things.
LIVE BY THE LORD
I still have alot of questions about, "What is a man?  What am I supposed to be?  What is my position here?"  I don't know.  But I'm still gonna look to God's word.  It sounds like a trite thing but it really is who I am and what I'm about.  
OPEN YOUR WINDOW
"Open Your Window" is what my whole heart is about.  There is alot of hurt in the world and I want to reach out.  This song is speaking about a very beautiful girl who seems to have it all together on the outside, but when you look on the inside there is broken hope and incredible pain.  The answer is in God, not religion.  Give Him a chance.  Listen for His voice.  This will make the difference.
CLOSER TO YOUR DREAMS
We all crave a certain amount of love and affection, whether it be physical, emotional or intellectual...but what God can offer is a lot closer than what we think.  Our dreams are not that far off.  In becoming a Christian, there's a certain security and stability that i beleive He gives where circumstances don't determine our joy.  I believe that if our faith is in the right place, our dreams are a lot closer than what we think they are.